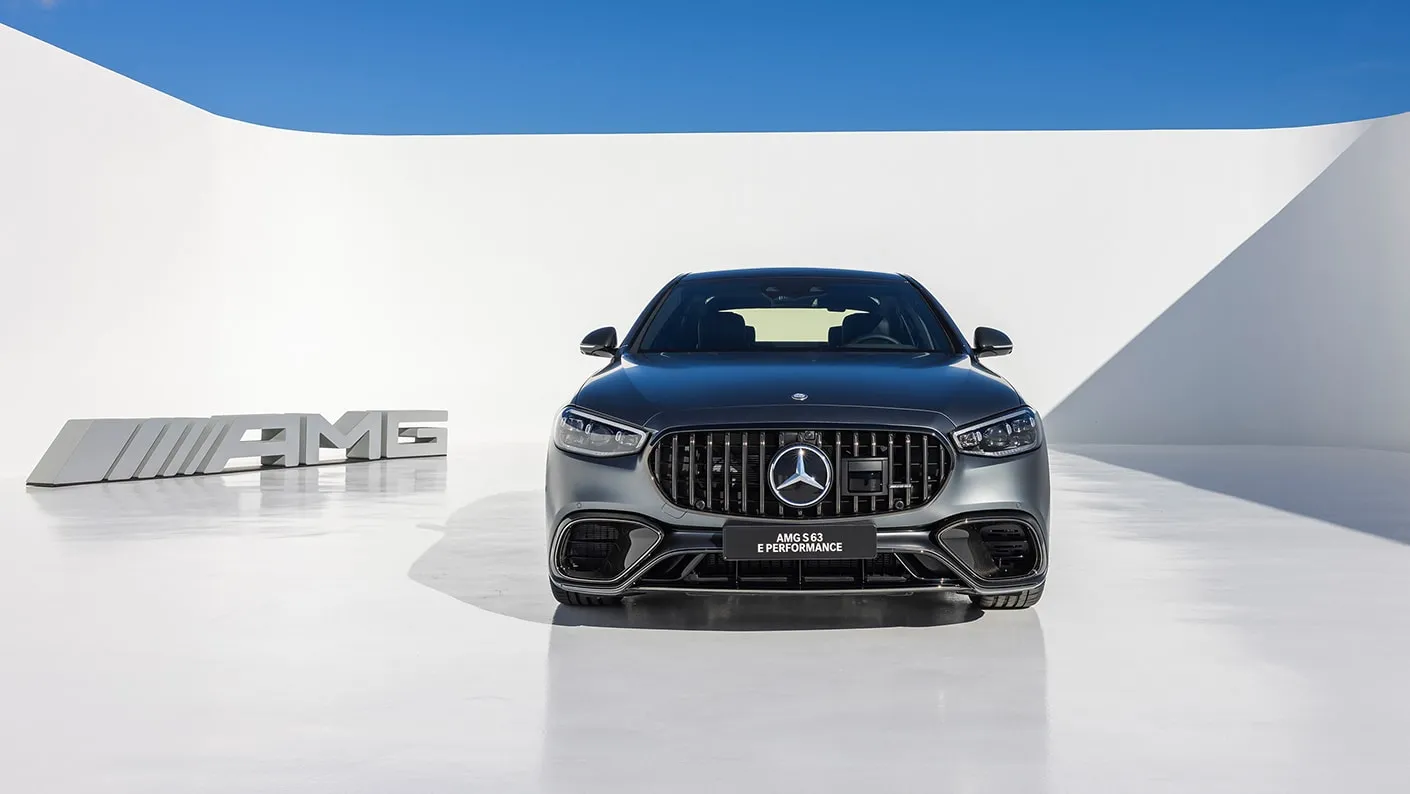 2024 Mercedes-AMG S63: Power, Performance, and Luxury Combined
After a brief hiatus, the AMG S63 super sedan has returned with a bang. Despite missing a year of production, this vehicle is now more powerful than ever, thanks to the integration of a new plug-in hybrid powertrain that makes it faster and more responsive than before. Leveraging the seventh-generation architecture of the Mercedes-Benz S-class, this vehicle is the epitome of sophistication and style. It's worth noting that Mercedes-Benz is now offering the S63 in a sedan format only – unlike prior releases that also included coupe and convertible styles – although this stance may change in the future. Under the bonnet lies a well-known twin-turbo V-8 which, assisted by AMG's rear electric motor, generates an impressive collective 791 horsepower and a staggering 1055 pound-feet of torque for its all-wheel drive system to handle. To guarantee that the S63 can reach sufficiently high speeds to outpace increasing interest rates, AMG has permitted its high-capacity luxury saloon to achieve speeds of up to 180 mph. As a luxurious mode of transport designed with ultimate performance in mind, the new AMG S63 provides a swift and comfortable means to lead the industry into its electrified future.
2024 Mercedes-AMG S63 E Performance
Table of Contents

Vehicle Type:
Front-Engine, Rear-Motor, All-Wheel-Drive, 4- or 5-Passenger, 4-Door Sedan
Price (Estimated): AED 945,000
Powertrain
twin-turbocharged and intercooled double overhead cam 32-valve 4.0-litre V-8, producing 603 horsepower and 664 pound-feet of torque, along with an alternating-current motor generating 188 horsepower and 236 pound-feet of torque, resulting in a combined output of 791 horsepower and 1055 pound-feet of torque. The vehicle also features a 10.5-kilowatt hour lithium-ion battery
pack and a 3.7-kilowatt onboard charger, and comes equipped with a 9-speed automatic transmission for the front wheels and a 2-speed automatic transmission for the rear wheels.
Engine, Transmission, and Performance
For some time, the Mercedes-AMG Petronas F1 Team has strived to create a high-performing battery capable of presenting consistent performance at the pinnacle of motorsports. Now, drivers on the road will reap the rewards of these efforts in the form of the new hybrid powertrain located in the AMG S63 E Performance. The most potent S-class available is powered by a twin-turbo V-8 engine upfront, producing 603-hp, supplemented by a 188-hp motor for the rear axle. Their combined effort yields 791 horsepower and 1055 pound-feet of torque for the car's all-wheel-drive system to manage. Shifting is performed by a nine-speed dual-clutch automatic transmission, while an electric motor integrated at the rear axle features a two-speed transmission. Rear-axle steering comes as standard equipment on this powerhouse to help it maneuver through traffic and parking spaces. Our estimate is that the S63 can reach 60 mph in as little as 2.8 seconds. That's faster than the most powerful version of the standard Benz S-Class, which took 3.9 seconds to reach 60 mph in our tests. With the immense power at its disposal, we anticipate the S63 E Performance will surpass its manufacturer claims. The S63 comes equipped with an AMG Ride Control air suspension, AMG Active Ride Control stabilization, and rear-axle steering as standard features, providing effortless maneuverability on the road.
Range, Charging, and Battery Life
The S63 is a plug-in hybrid electric vehicle (PHEV) that utilises a 10.5-kWh battery pack and boasts a range of approximately 17 miles on electric power alone per charge. The onboard charger can recharge the battery up to 3.7 kW, which is not considered fast when compared to the charging capability of the S63.
Fuel Economy
AMG maintains that their transition towards a plug-in hybrid powertrain, which is aided by a novel 13.1 kWh battery, prioritises performance over fuel efficiency. While the EPA is yet to evaluate the new S63 E Performance, we estimate that the hybrid S63 will not yield considerably better fuel consumption figures than its predecessor's 16 mpg city and 25 mpg highway. For supplementary insights regarding the S-Class' fuel economy, refer to the EPA's official site.
Interior & Comfort
The AMG S63 is a car that warms the hearts of enthusiasts with its massive horsepower, while also providing comfort as a top priority. The lavish cabin is adorned with unique AMG upholstery and stitching. A standard Dolby Atmos audio system offers a 360-degree audio experience. The car's 12.3-inch digital gauge cluster displays driving information clearly and brightly. However, the real showstopper is the 12.8-inch OLED touchscreen mounted vertically on the dashboard. The S63 provides an exclusive experience with its exceptional road noise cancellation and luxurious interior materials. The presence of headrest pillows and generous legroom in the rear compartment makes it plausible to consider the S63 as an ideal chauffeur-driven car, while the driver's seat offers an equally exceptional experience.
Infotainment and Connectivity
Like its less powerful Mercedes-Benz S-class counterpart, the S63 is equipped with a 12.8-inch OLED touchscreen mounted vertically with an improved version of Mercedes' MBUX software. The system can be operated via touch or by voice commands from any seat in the vehicle. Standard features include wireless Apple CarPlay and Android Auto with wireless phone charging.